In Memoriam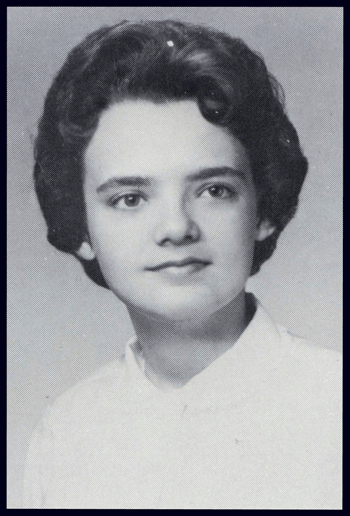 Mary Frances Mills Estridge
June 24, 1946- December 20, 1997
Pelican Prints Graphics Artist
OBITUARY: The Charlotte Observer, December 22, 1997
Mrs. Mary Frances Mills Estridge, 51, of 2317 Watts Drive, died December 20, 1997, at Piedmont Medical Center in Rock Hill, SC.

She was born June 24, 1946 in Lancaster County, a daughter of Mr. Fred Robert Mills, Sr. and Mrs. Edith Blackmon Mills of Lancaster. Mrs. Estridge was a graphic artist for Pelican Prints and a member of Lynnwood United Methodist Church.

Survivors include her parents of Lancaster; husband, Mr. Jerry Wayne Estridge of the home; two daughters, Miss Leah Frances Estridge and Miss Lori Elizabeth Estridge, both of the home; two brothers, Mr. Fred Robert Mills, Jr. of Lancaster, and Mr. James Henry Mills of Washington, DC

Funeral services will be 3 P.M. Tuesday at Lynnwood United Methodist Church by the Rev. Robert A. Adams and the Rev. Kathy Bostrum officiating. Burial will follow in Lancaster Memorial Park. The family of Mrs. Estridge will receive friends at the Hartley Funeral Home 7-9 P.M. today.

Memorials may be made to Lynnwood United Methodist Church, 1753 Lynnwood Drive, Lancaster, SC 29720.

Hartley Funeral Home, 1800 Charlotte Hwy, Lancaster, SC is in charge of arrangements.
*****************************************************************************************
While in high school I was a close friend of Mary Francis (Mills) Estridge.  I am sorry to say I had not seen her since high school as with most of our classmates.  So I can tell you about my remembrance of her during school days.  Mary and I were both members of the Creative Writing Club.  We shared an interest in horror stories.  I loved to watch and read them as did Mary but she had one on me.  She could write them and I really envied her for it.  That talent made us good friends.  I don't have any of her works but I'd say some rivaled Edgar Allen Poe's poems and short stories.  Our moderator, Mrs Georgie Beckham, did not put much of either of our works in the school Creative Writing booklets because Mary's were too macabre and mine too esoteric.  Her personality would never tip you off to her creative ability on the "dark side" as she was kind, warm and very friendly. 
Submitted by Don (Donnie) Baker
*****************************************************************************************
Mary was my cousin.  We lived next door to one another for the first five years on Lynnwood Drive.  She was my "older" cousin by four months.  I remember all the times we played together and the last "fight" that we had.  ( We were more like sisters at times! )  We were raking our grandmother's yard and we started fighting with the rakes.   It's a wonder we didn't kill one another!
We would play in our granddaddy's barn, jumping from the hayloft onto the bales of hay.  I hate to think how many snakes were in there as we played!  It is amazing we survived childhood!   
Mary was very talented.  She was always drawing and she could write poetry at the drop of a hat.  She used her artistic ability working at Pelican Prints.  I spoke with her employer after her death and he had many wonderul things to say about her.  She had fibromyalgia and she went to work many days when she really did not feel like working.  He said that when the pain would get really bad, she would lie on the floor in the back room and after awhile she would get up and continue with her work
Mary, Ida Rose Watts Steele, Sylvia English Williams and I sang folk songs together.  In fact, I remember that we won a talent show at First Methodist Church.   
Shortly before Mary died, the four of us were together for the first time in years at Lynnwood Methodist Church for homecoming.  Some of the older folks remembered that we used to sing together and they convinced us to sing.  It was amazing!  We could still remember some of the songs and the words!  I am so thankful that we had that time together.  It was very special.
Mary's mother, who is 89 years old, recently was telling me that not a day goes by that she doesn't think about Mary and how much she misses her and I do, too. 
Submitted by Linda Blackmon Bell  
*****************************************************************************************
Mary and I were best friends and neighbors since first grade. We attended the same church (Lynwood United Methodist Church in Lancaster) throughout our pre-marriage days, joined Girl Scouts together, even had a little "folk music" singing group (with our ukuleles) in 1960ish, performing at church and at other youth group meetings in Methodist churches in Lancaster. After graduating high school, Mary and I enrolled in a secretarial school (College of Commerce in Rock Hill) and commuted back and forth before graduating. We both got 9-5 jobs and tried to find our niche in the world, with our roots firmly situated on Lynwood Drive. I met and married Phil a few years later and moved from my roots on Lynwood Drive, but Mary never left our old stomping grounds even after her marriage. A few years into their marriage, Mary gave birth to twin boys who died. She and Jerry had two other children later, both beautiful girls. Mary was a wonderful, sincere person who always had a smile on her face even though she had nagging health problems. She would do anything for anybody at any time, and I miss her very much.
Submitted by Sylvia English Williams
************************************************************************************
Mary Mills and I first met at McDonald Green. We sang in chorus together in high school and "cut up" when she worked at her Aunt Connie's dress shop. She married my cousin, Jerry, so we saw each other at family gatherings through the years. She was a very talented, creative person.
Submitted by Peggy Robinson Matthews