In Memoriam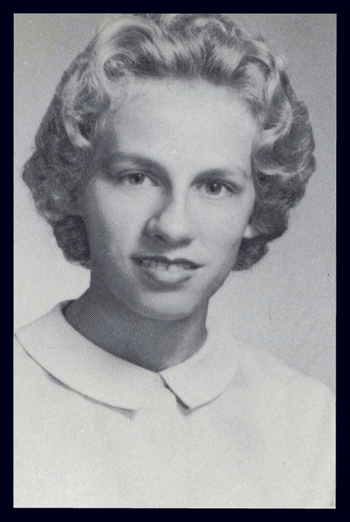 Patsy Ann Adams
August 11, 1946- December 6, 1966
OBITUARY: The Lancaster News, Dec. 09, 1966
Patsy Ann Adams
Funeral services for Miss Patsy Ann Adams of Lancaster were conducted last Thursday afternoon from Hyde Park Baptist Church by the pastor, the Rev. Archie Neal, and the Rev. Neal. Interment was in Lancaster Memorial Park.
Miss Adams died Tuesday, Dec. 6, in Marion Sims Memorial Hospital following a lengthy illness.  Her age was 20.
She was born in Lancaster County, a daughter of Jack Leo and Margaret Mae Baker Adams.
Miss Adams is survived by her parents; one sister, Miss Jacqueline Alease Adams of the home; one brother, Gerald Adams of the home; her maternal grandmother, Mrs. Anna Baker of Lancaster; and her paternal grandmother, Mrs. Patsy Adams of Lancaster.
*****************************************************************************************
Patsy Adams and I were pretty close friends.  She lived not far from me in what used to be called Hyde Park.  I often hitched a ride with her to or from school as she had a license and a car.  I dubbed her "Crash Adams" after she tried to pass a school bus at the intersection of Brooklyn Avenue and the main drive of town.  As she attempted to pull in front of the bus to avoid a car coming head on, the bus hit the passenger side of the car right where I was sitting.  I don't remember being very frightened by the incident either because if happened so quickly or by the fact she was more embarrassed by it than she was frightened. Fortunately nobody was hurt but I think her car had seen its last days. Patsy died of Leukemia from which she had suffered for several years, a disease that took her out of school most of our senior year.  From visits to see her she never showed signs of giving up and seemed happy to the end.  Patsy was a very courageous girl.  She was a warm and friendly person who enjoyed a good laugh.  It is sad that her life was cut short.
Submitted by Don (Donnie) Baker
************************************************************************************
Patsy Adams and I worked at the hospital for 4 years during high school. We were in the Future Doctors and Nurses Club. We worked for the Candy Stripers. Enjoyed every minute of her.
Submitted by Sonja Copeland Childers