In Memoriam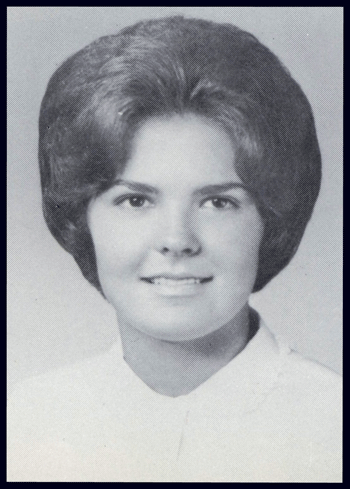 Carole Ruth Ray Dowling
April 19, 1946- December 10, 1983
OBITUARY: The Lancaster News, Dec. 12, 1983
Carole Ray Dowling 
Mrs. Carole Ray Dowling, 37, wife of Joe Harry Dowling, died Saturday night from injuries received in an automobile accident.
Born in Lancaster County, S. C., Mrs. Dowling was a daughter of Boykin Lee and Ruth Robinson Ray. She was office manager of Springs Recreation Dept., and was a member of the First United Methodist Church.
Surviving are her husband; two sons: Michael L. Outlaw of Cullowhee, NC, and James Dowling of Gastonia, NC; her parents of Lancaster; and a brother, James Coleman Ray of Lancaster.
Services will be held at 3 p.m. Monday from the First United Methodist Church by the pastor Rev. William R. Kinnett and Rev. Clay Edwards, with burial in Lancaster Memorial Park.
The family suggests that those who wish may make memorials to MADD of Lancaster.
*****************************************************************************************
ARTICLE: www.sc.edu/usctimes, July 14, 2005
Lancaster's ed foundation gets Carole Ray Dowling funds
The Educational Foundation of USC Lancaster recently received approximately $370,000 from the Carole Ray Dowling Scholarship fund.
The funds will be used for the renovation and maintenance of the University Baptist Church property, which is now part of USC Lancaster campus. The property will become the Carole Ray Dowling Health Services Center.
"This could not have happened at a better time," said John Catalano, dean of USC Lancaster. "It is a wonderful way to memorialize Mrs. Dowling. Anytime you drive down Hubbard Drive you will think of her and what she meant to this community."
The Carole Ray Dowling Scholarship fund was founded as a tribute to Dowling, who was killed in an automobile accident in December 1983. Before her death, Dowling was secretary and office manager for Leroy Springs and Company Inc. for 16 years.
Initiated by Bill Biggerstaff, then director of the Lancaster office of Leroy Springs, a golf tournament was organized to provide funds for the scholarship and was held annually for many years.
The intent of the scholarship was to aid young men and women in attending the college or university of their choice. More than 90 students have received more than $225,000 in aid from the scholarship.
Because the Life Scholarships and the Hope Scholarships presented by the state of South Carolina now make it possible for many students to attend colleges and universities, the Board of Directors of the Carole Ray Dowling Scholarship voted to contribute the remaining funds to USC Lancaster's Educational Foundation.
*****************************************************************************************
" I got to know Carole Ray through a mutual friend. She was married to Roland Outlaw the first time, and had a son, Mike. Our sons knew each other. She was married to Joe Dowling when we started going places together. We would go to ballgames. She was sweet and funny. So shocked when I heard that she was killed in an auto accident. A building at the USC- Lancaster campus is named after her."
Submitted by Sherry Brooks Williams
*****************************************************************************************
Carole and I were best friends in Jr. High and spent hrs. on end both at my house and at hers in the Antioch Community. Carole's uncles and Dad had sawmills and made furniture so Carole and I had the pleasure of playing on the sawdust piles. One day, we were playing and jumping and the pile collapsed around us. It was warm and smoking down inside and her Dad had to pull us out. We were always doing something crazy. Carole's daddy's car was a blue and white Buick and when she got her permit, Mr. Ray would let her drive with me in the middle and him riding shotgun. One night we were riding along on Holiday Rd. going back to Carole's house and she ran off the road and hit a mailbox with the windshield and put a huge hole in it. Mr. Ray never raised his voice but said in his gentle voice, "Well Carole, I guess you'll have to drive this like this for a long time." Sure enough, she drove that car with the windshield taped up with duct tape until she was in high school. I became a hairdresser while I was still in high school and did several of the girl's hair but one time comes to mind when I did Carole's and Dian Hammond's hair for the Miss Lancaster Contest in our Sr. year. Both girls did great but Carole had it sewn up until the question category came up and she clammed up and couldn't say a word. I was in the audience trying to help her answer the question. I was married just after graduation and kinda lost touch with Carole until we were in the hospital together having our sons. Scott was born on March 13th and Mike was born on March 14th. After that our children played together, went to kindergarten together, grammar school together, played sports together and we saw quite a bit of each other. Carole divorced Roland Outlaw and several years later married Joe Dowling. My first husband, Jimmy Munn, worked with Joe at the Vocational School so we continued to be friends. When we received the call that Carole and Joe had been in an accident and she was killed, I was dumbfounded. I visited Mrs. Ray until her death and she never got over Carole's death. She was lost without her. The Rays always treated me as a member of the family and I thought of them as my family. Carole lives on today with the many things that have been done in her memory such as the Carole Dowling Center and the many many scholarships given by her family in memory of her.
"What a special person she was and she left a very special son, Mike." I still miss her.
Submitted by Judy Shehane Hinson