In Memoriam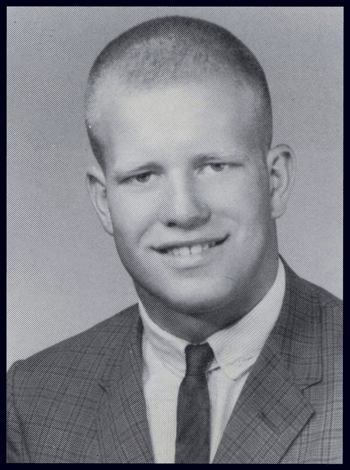 Curtis Charles McManus
November 22, 1944- December 28, 1996
OBITUARY: The Lancaster News, Dec. 29, 1996
Curtis Charles McManus
Diebold Inc. Retiree

Curtis Charles "Charlie Mac" McManus, 52, of 389 Arrowood Ave., Lancaster, died Saturday, Dec. 28, 1996.
Born Nov. 22, 1944, in Lancaster County, he was a son of the Jessie Walters McManus and the late Curtis Clyde McManus, and was married to Elizabeth "Dale" McNaughton McManus.  He was retired from Diebold Inc. as a banking security technician and was a member of Covenant Baptist Church.
Survivors include his wife and mother; and a son, Doug Smith of Lancaster.
Services will be 2 p.m. Monday at Covenant Baptist Church, conducted by Dr. Bert Welch and the Rev. James Spencer, with burial in Lancaster Memorial Park.
The family will receive friends from 7 to 9 this evening at Hartley Funeral Home.
Memorials may be made to Covenant Baptist Church; 165 Craig Manor Road; Lancaster, SC 29720, or to Second Baptist Church; 1426 Great Falls Highway; Lancaster, SC 29720.
*****************************************************************************************
"Charlie McManus became one of my best friends. I knew him in school, but not that well. In 1976, we met again when I bought a place at the river. Charlie was a hoot; he kept something going all the time. He and his wife Dale became great friends of ours. They had a place at the river beside us and we did everything together. Dale had a son by a previous marriage, and Charlie was a great father. He could do or fix anything, or would tape or wire it together! Charlie had a heart attack after an electric shock at work. He had several bouts with his heart and needed a heart transplant, but never could qualify. Charlie put up a great battle and kept his sense of humor. He fought hard to stay here with Dale. Charlie loved her so much."
Submitted by Sherry Brooks Williams
*****************************************************************************************
Charles McManus lived just across the Great Falls highway from where I lived. We spent a lot of time together as kids. We would go to another friend's home that was near Charles and play.  His name was Wayne Phillips. Wayne's father was a ship builder in Charleston and was very seldom at home but he would buy Wayne new toys, bicycles etc.  Charles and I would visit Wayne often just to see what he had gotten from his dad that particular week.  He would offer to give both of us his toys just to get us to stay and play. We decided one day to take him up on his offer and both of us went home with brand new toys. After being chastised by my mother and realizing the selfishness of my deed, I went back with the toy bulldozer and on the way  I met Charles with whatever it was that he had taken. Apparently his Mother gave him the same talk that I'd got. It was a good lesson that I learned and I'm sure Charles would agree. Just another little memory. Most of my memories of Charles  was during grammar school days.  We moved away and I lost contact with most childhood friends, including Charles . Although we crossed paths many times during our High School years we were never as close as what we were as kids but I think the memories we had and the lessons learned helped us to become the men that we were in later years. It would have been nice just to sit down and talk and relive some of the memories. Life and time  doesn't always  reward us with those simple pleasures.
Submitted by Charles Goodman
************************************************************************************
I had the pleasure to work and grow up with Curtis Charles "Charlie Mac" McManus. I played football with him at LHS and worked with him on the security crew at Diebold, Inc. Charlie and I spent many fun-filled years together travelling, and he truly could "fix" anything, as Sherry Williams states. Charlie Mac was one of a kind in that he was the most selfless and caring person I have ever known; even in his last days Charlie would call to see how everyone was doing and if there was anything he "could do for them". He was an excellent friend, husband, father and mentor, and of all the classmates, Charlie Mac is the one that could and would "Stand By Me".
Submitted by Rick Renner