In Memoriam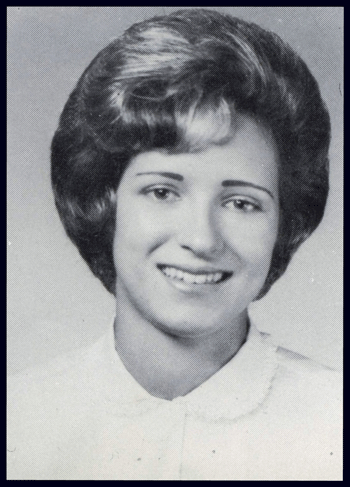 Loma Ann Crook Trull
January 31, 1945-April 8, 1984
OBITUARY: The Lancaster News, April 09, 1984
Mrs. Trull

Mrs. Loma Crook Trull, 39, wife of Shannon Trull, died Sunday.
Born in Lancaster County, Mrs. Trull was a daughter of Mrs. Roxie Melton Crook and the late James Mark Crook. She was a supervisor for products at the Grace Bleachery and was a member of East Side Baptist Church where she was a W.M.U. director.
Surviving are her husband; a son, Tony Trull of Lancaster; a daughter, Miss Candy Trull of Lancaster;  and her mother of Lancaster.
Also surviving are three brothers; Billy, Van, and Ralph "Buddy" Crook of Lancaster; and five sisters; Mrs. Buddy (Frances) Robinson of Lugoff and Mrs. Ray (Blonnie) Watts.  Mrs. Ira (Bessie) Haire, Mrs. Grover (Verla) Stevens and Mrs. Robert (Dorothy) Cook; all of Lancaster.
Services will be held at 3 p.m. Tuesday from East Side Baptist church by the Rev. Donald Tillman and the Rev. Billy Boone and the Rev. Lytle Snipes, with burial in Lancaster Memorial Park.
Memorials may be made to the East Side Baptist Church building fund.
The family will receive friends from 7 to 9 p.m. Monday at the Cauthen Funeral Home.
*****************************************************************************************
Loma Crook was one of my very best friends in high school. She was lots of fun but quiet until you got to know her. We would "circle the grills" together along with Imogene Johnson and Joyce Walden.
When I was in high school, Daddy bought a 1959 black Ford Galaxy with a "continental kit," (the one with the spare tire stored on the trunk lid.) It was a fine looking car. Daddy gave it to me to drive.
One night we were circling the grills in that car. Terry Starnes might have been with us that night too. We were driving down that stretch of North Main Street that was a four lane when a carload of boys pulled up beside us and wanted to race. We were all laughing when Loma Crook yelled out, "Stomp it, Sylvia!" I don't know what made me do it but I floor-boarded it and the four-barrel opened up and that car took off like a jet engine.
Just about that time, a policeman pulled out from behind Melton Brothers' Insurance. I turned the corner quickly to try to get off Main Street but it was too late. He pulled us over and let the boys go. We were scared to death! The policeman was Officer Carnes. He said, "Do you ladies have time to go to the police station with me?" Obviously the correct answer was "yes."
Scared out of our minds, we followed him up there. You remember the police station used to be on Main Street right beside the Robert Mills Courthouse. I was hoping to pull around back so that if Daddy happened to be driving down Main Street he wouldn't see his car sitting in front of the police station. Mr. Carnes motioned for me to park right out front. I was just hoping Daddy didn't ride by. His service station was at the other end of town and I was worried.
Police officer Carnes ushered us inside the station for our "tour." He showed us the cells where they lock up women prisoners and he told us they lock up the men on the other side. He gave us a "good talking to." After about 45 minutes, he finally let us go. I guess he figured he'd scared us good enough. As we were leaving, he asked me, "What if Herman Perry had seen you drag-racing his car on the four-lane?" He didn't have to ask me because that is all I had been thinking about.
We left, totally humiliated and scared to death, but relieved too. He didn't write us a ticket and as far as I know, Mr. Carnes never told Daddy. I stayed under 40 mph, that night, but I never drag-raced again!
Submitted By Sylvia Perry Hegler