Selina Anne Bell Perkins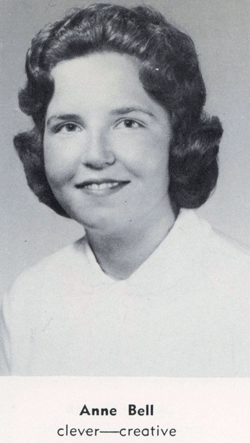 45th REUNION LANCASTER SENIOR HIGH SCHOOL CLASS OF '64
Name/Email Address: Selina Anne Bell / perkinsnmb17 at aol dot com
Marital Status/Spouse's Name: Divorced
Children/Grandchildren: John Charles, son, and daughter-in-law, Emily/ Grandchildren- Taylor Elizabeth, 7 and Haylee Grace, 3
Occupation: Retired Teacher
College/Professional Training: Coker College, University of South Carolina- AB Degree, Winthrop University- Masters Degree and 30 hours above my Masters. Certified in History Education, Elementary Education, O.H.
Military Service(Details, Combat Tour?): No
Own Business? (Name, Website): No
Hobbies/Interests: Bridge, Traveling, Gardening, Beachcombing, Flower Arranging, Movies
Published a Book? (Name): No
Favorite Books/Authors: Pat Conroy's books- The Water is Wide, Prince of Tides, The Lords of Discipline; Margaret Mitchell's Gone With The Wind; Alexandra Ripley's Scarlett
Favorite Songs/Musicians: Songs by the Drifters, Temptations, Four Tops, Bob Seger, Franki Valli and the Four Seasons. Songs by Elton John and Billy Joel
Favorite Movies: Gone With The Wind, The Big Chill, Grease, Saturday Night Fever
Best Vacation Ever: Going to three islands in Hawaii
Favorite Memory of High School: I enjoyed playing grandma in the Senior Play. I felt very honored to have my mother, Martha Ann Dowling Bell, as the Director.
Proudest Moments of My Life: Are when my son, Charles, was born and granddaughters Taylor and Haylee Grace were born
Things I Would Like My Classmates to Know: I loved my high school years at L.S.H.S. Those were some of the best years of my life. During my masters program in the 1970s, I had a class in literature where Pat Conroy was the guest speaker.