William Anderson Long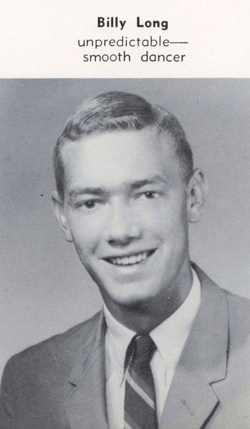 45th REUNION LANCASTER SENIOR HIGH SCHOOL CLASS OF '64
Name/Email Address: WILLIAM A LONG "BILLY"/ bill dot long at yadkinvalleybank dot com
Marital Status/Spouse's Name: MARRIED TO SUEZI (30 YEARS)
Children/Grandchildren: WILL (28) ONE MORE YEAR AT WAKE FOREST FOR HIS MBA/JD DEGREES. BEN(25) GRADUATED FROM NC STATE IN AGRICULTURE. WORKING FOR A LOGGING COMPANY IN SCOTLAND NECK, NC. NO DAUGHTER IN LAWS AND NO GRANDCHILDREN – DAMMIT!!!
Occupation: PRESIDENT AND CEO OF YADKIN VALLEY BANK.
College/Professional Training: BSBA EAST CAROLINA UNIVERSITY LSU SCHOOL OF BANKING OF THE SOUTH
Military Service(Details, Combat Tour?): NONE
Own Business? (Name, Website): NONE
Hobbies/Interests: GOLF, FLY FISHING, OLD CARS AND THE BEACH. FAMILY HAS ENJOYED USC FOOTBALL AND THE PANTHERS OVER THE YEARS.
Published a Book? (Name): NO
Favorite Books/Authors: FICTION ONLY PLEASE – LEVI'S WILL BY W. DALE CRAMER IS WITHOUT A DOUBT MY FAVORITE BOOK / ALMOST ANY AUTHORS – STILL ENJOY D. STEELE – PLUS P. CORNWELL AND M. CONNELLY – NOT HARD TO PLEASE HERE.
Favorite Songs/Musicians: STILL LOVE BEACH MUSIC
Favorite Movies: ANYTHING BUT HORROR
Best Vacation Ever: OUR EXTENDED FAMILY GOES TO THE BEACH EACH YEAR FOR TWO WEEKS AROUND JULY 4th – JUST KEEPS GETTING BIGGER AND BETTER!!!
Favorite Memory of High School: TOO MANY TO MENTION
Proudest Moments of My Life: TOO MANY TO MENTION BUT THEY WOULD ALL REVOLVE AROUND MY FAMILY
Things I Would Like My Classmates to Know: VERY SELDOM DO I GO A MONTH WITHOUT SITTING DOWN AND LOOKING THROUGH MY '64 RAMBLER. COLLEGE WAS FUN AND ALL THESE MANY YEARS AFTER HAVE BEEN GREAT BUT MY HIGH SCHOOL YEARS AND THE CLOSENESS OF OUR CLASS STILL REMAINS MY FONDEST TIME IN LIFE.