Robert Eugene VanKeuren, Jr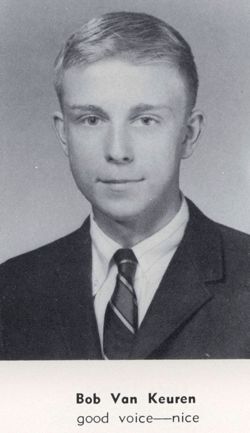 50th REUNION LANCASTER SENIOR HIGH SCHOOL CLASS OF '64
Name/Email Address:  Robert E. Van Keuren, Jr. (Bob)/ vanceulen at comcast dot net
Occupation:  Public Information; Writer, Editor, Publication Designer
College/Professional Training:  B.A. (History, USC), 1968; M.A. ( Journalism, USC) 1979
Military Service(Details, Combat Tour?):  USN, 1969-73. 3 ships (Charleston SC) and Bureau of Naval Personnel, Washington
Hobbies/Interests: Writing, Episcopal Church and community activities
Published a Book? (Name): AUTHOR:Take Up This Welcome: Giving Church Another Chance. 2011.
EDITOR/DESIGNER:
WALL: From the Life of Frederick William Wallace Van Keuren, by Robert E. Van Keuren, Sr., 1982, 2004
A Jubilee History: St. Bartholomew's Episcopal Church, 1954–2004
Seasons, Saints, and Angels, [poems by] Kendall Dana Lockerman, 2011.
RAIN, [poems by] Kendall Dana Lockerman, 2013
Favorite Books/Authors: DUNE (plus various sequels and prequels) by Frank Herbert, et.al.
Favorite Songs/Musicians: Beatles, as a group or separately; Nitty Gritty Dirt Band; Classical, especially Mozart, Haydn, Beethoven, Handel
Favorite Movies: A Man for All Seasons, Who's Afraid of Virginia Woolf, The Lion in Winter, Murder by Death, Casino Royale (1967)
Best Vacation Ever: Paris and Amsterdam, 1996.
Favorite Memory of High School: Being Band Announcer