Leonard Keith Neal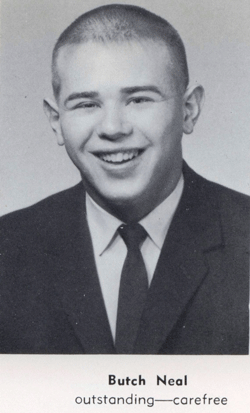 45th REUNION LANCASTER SENIOR HIGH SCHOOL CLASS OF '64
Name/Email Address: butch neal/beach-biz at Comcast dot net
Marital Status/Spouse's Name: married/ aislynn b. neal
Children/Grandchildren: yes and yes
Occupation: beach bum
College/Professional Training: masters from winthrop
Military Service(Details, Combat Tour?): none
Own Business? (Name, Website): own island beach service,inc..
Hobbies/Interests: being on the beach each day
Published a Book? (Name): have not published my book yet
Favorite Books/Authors: newspapers
Favorite Songs/Musicians: late 50's and 60,s rock and roll/tams, drifters
Favorite Movies: not picky....loved to be entertained
Best Vacation Ever: 14 day cruise to carribean.
Favorite Memory of High School: watching and playing football
Proudest Moments of My Life: . marriage to aislynn, birth of daughter, masters degree, coaching in state play-offs in football
Things I Would Like My Classmates to Know: teacher for 15 years
coached football at some great schools
owned my own business for 21 years