Cecil Lamar Gleaton, Jr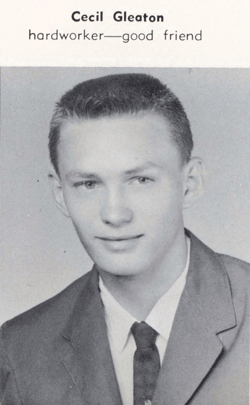 45th REUNION LANCASTER SENIOR HIGH SCHOOL CLASS OF '64
Name/Email Address: Cecil L. Gleaton / mypie at comporium dot net
Marital Status/Spouse's Name: Married/ Myra Helms Gleaton
Children/Grandchildren: Shannon Edward Gleaton, Amanda Dawn Gleaton Hensley/ Brianna Gleaton, Caden Hensley
Occupation: Retired/ Electrical Generator Tester, Siemens/ Westinghouse
College/Professional Training: Naval Electronic School
Military Service(Details, Combat Tour?): Naval Aviation/ stationed in Meridian ,MS, Memphis, TN, Sanford, FL, and Albany, GA. Made one nine-month Mediterranean Sea cruise.
Own Business? (Name, Website): No
Hobbies/Interests: Fishing, rebuilding '38 Ford Coupe, kayaking, running races in past
Published a Book? (Name): No
Favorite Books/Authors: Spelldown by Karon Gleaton Luddy, The Bible, Zane Grey, and car magazines
Favorite Songs/Musicians: Oldies
Favorite Movies: Always, Castaway, any old westerns and war movies, Sci-Fi movies
Best Vacation Ever: Mountain trips
Favorite Memory of High School: Graduation
Proudest Moments of My Life: Births of my children and grandchildren
Things I Would Like My Classmates to Know: Jack of all trades and master of none. Myra says I am the perfect husband. I have had a good life.
Grandaughters Brianna Gleaton and Caden Hensley
'38 Ford Coupe