Andrew Crane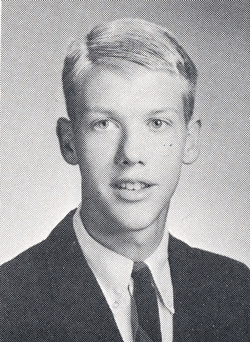 50th REUNION LANCASTER SENIOR HIGH SCHOOL CLASS OF '64
Name/Email Address: Andrew M. (Chip) Crane/acranesc at gmail dot com
Marital Status/Spouse's Name: Married/Babs Crane for 37 years
Children/Grandchildren: Son/Andrew M. Crane, Jr. 35, Atlanta/Wife Anita, son Jack
Daughter/Lee L. Crane, 32. Wedding April 19th, 2014, Hope Town, Abaco Island
Grandson/J A (Jack) Crane, 2
Occupation: Executive Vice President, National Sales Director, Independent Trust Company of America and Santa Fe Trust Company
College/Professional Training: Wofford College-BA, Rutgers University, American Bankers School, Advanced Banking Certificate
Military Service(Details, Combat Tour?): US Army Reserve, Staff Sergeant/ Instructor for Jumps Army Payroll, preliminary Command and General Staff School, Fort Jackson, SC
Own Business? (Name, Website):
Hobbies/Interests: Golf, hunting, beach walking, music, reading
Published a Book? (Name): Not yet
Favorite Books/Authors: Woods, Patterson, Flynn, Connelly, Deaver, Grisham
Favorite Songs/Musicians: Genesis, Steve Winwood, Bruce Hornsby, Bryan Adams, Dave Matthews, Eagles, Enya, Elton John, John Mayer, Json Aldean, Journey, Peter Gabriel, Phil Collins, Robert Palmer, Rod Stewart, ZZ Top, All Beach Music Artists
Favorite Movies: Dr. Zhivago
Best Vacation Ever: Every Day
Favorite Memory of High School:
Proudest Moments of My Life: Marriage (second time), birth of children, watching them grow up and succeed, and then the birth of granchild
Things I Would Like My Classmates to Know: Have not changed one bit unless you count: hair loss, weight gain, wear glasses, most teeth are store bought, etc. Living in Pawleys Island, SC for last 6 years, far from retired and enjoying extended career.
Phone 864-979-5422 (m) if you get to the beach.