David Erskine Tillman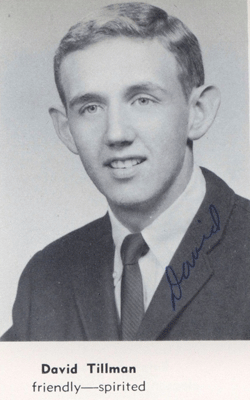 45th REUNION LANCASTER SENIOR HIGH SCHOOL CLASS OF '64
Name/Email Address: David Erskine Tillman/ detillman at gmail dot com
Marital Status/Spouse's Name: Mary Catherine Ozburn Tillman
Children/Grandchildren: Daughter: Paige, Step-Daughters Ashley Steele and Cali Freeman ( Cathy's daughters) Adrienne Huffman and step son Jim Huffman.
Occupation: Real Estate Sales Daufuskie Island Resort Realty
College/Professional Training: University of South Carolina, BS 1969, Kellogg School of Business @ Northwestern
Military Service(Details, Combat Tour?): N/A
Own Business? (Name, Website): N/A
Hobbies/Interests: Golf and Boating
Published a Book? (Name): NOT YET!
Favorite Books/Authors: Beach Music, My Losing Season, Prince of Tides, An Innocent Man, The Associate, The Great Santini, Call Me Ted, 700 Sundays, My Grandfather's Son/ Pat Conroy, John Grisham and my favorite writer is Mary Catherine.
Favorite Songs/Musicians: Too many to name but , here's a few…..Anna by Arthur Alexander, You Don't Always Get What You Want by the Stones, Stay by Maurice Williams, Be Young, Be Foolish,Be Happy by the Tams, Harlem Shuffle (?), Hold On I'm Coming by Sam and Dave, anything Tops and Temptations, and throw in a little Jimmy Buffet, Kenny Chesney, Sugarland, Rascal Flatts, Prince and the Fabulous Nomads.
Favorite Movies: Gone With the Wind, To Kill a Mocking Bird, No Country for Old Men, Doubt, Scent of a Woman, Godfather I, Shawshank Redemption.
Best Vacation Ever: Too hard but recently Mary Catherine and I spent a week on a Catamaran sailing the BVI's. Foxy's was too much fun and Hawaii's Big Island with snow on Mauna Kea and the Kilauea lava flow….it's a WOW!!!
Favorite Memory of High School: So many memories! ( Reminds me of Martha Reeves and the Vandellas's "Come Get These Memories") Pep rallies , football and basketball games, Jr.-Sr and trips to Myrtle Beach, Motor Inn Grill, Pit Stop, Cruising Lancaster on Sunday afternoons, Peter, Paul and Mary, Jade Tree, the many road trips with Herman Steele and my most vivid memory, while not my favorite, is Kennedy's assassination.
Proudest Moments of My Life: Too many to list!
Things I Would Like My Classmates to Know: Lancaster was a great place to grow up and the friendships are forever. I don't have a chance to see a lot of you but, almost every time I talk with Vanny or Herman we still talk about how lucky we were to grow up in Lancaster. Special time and special place. I've been blessed all my life.
Also, Mary Catherine and I live on Daufuskie Island ( think Pat Conroy and The Water is Wide ) and all of you have a standing invitation to visit. Please come see us!