Donald Meigs Graves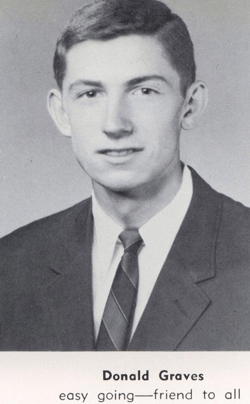 45th REUNION LANCASTER SENIOR HIGH SCHOOL CLASS OF '64
Name/Email Address: lornalto at bellsouth dot net
Marital Status/Spouse's Name: Lorna
Children/Grandchildren: Jessica '84/Brooklynn '06 & Katelynn '09
Occupation: Legal Videographer
College/Professional Training: BS in Business Adminstratrion/Certified Legal Video Specialist
Military Service(Details, Combat Tour?): Air Force 68-72, Staff Sergeant E5, (Honorable Discharge, by the way)
Own Business? (Name, Website): .
Hobbies/Interests: Sports, granddaughters
Published a Book? (Name):
Favorite Books/Authors: Go, Dog. Go! by P.D. Eastman
Favorite Songs/Musicians: Lorna Graves singing "His Eye is on the Sparrow"
Favorite Movies: Caddy Shack, Ground Hog Day
Best Vacation Ever: Alaska
Favorite Memory of High School: Beating Brookland-Cayce in basketball
Proudest Moments of My Life: Marrying Lorna
Things I Would Like My Classmates to Know: Vanny Mullis is bald!!