Francina Yvonne Porter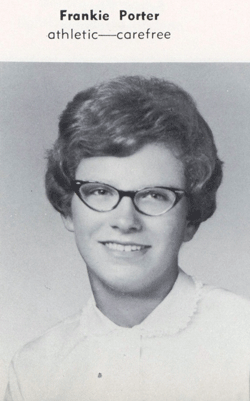 50th REUNION LANCASTER SENIOR HIGH SCHOOL CLASS OF '64  
Name/Email Address: Frankie Porter –river22 at windstream dot net
Marital Status/Spouse's Name: Eleanor Craig (18 years we've been together )
Children/Grandchildren: Grandchildren Justice (17) and Eleanor "Elle"(11)
Occupation: Retired Basketball Coach University of South Carolina/Anderson University/Women's Athletic Director Anderson University/Elementary Physical Education Teacher Hammond Academy/Bradley Elementary, Columbia, SC
College/Professional Training: Montreat College/University of South Carolina /B.S./Masters /National Board Certified Educator/USC Model Teacher Supervising USC Student-Teachers
Military Service(Details, Combat Tour?):
Own Business? (Name, Website): Moonshadow Landscape Lighting/Retired
Hobbies/Interests: Nature/Lake Wateree aka "The River"/boating /treehouse "TYPARII"/"Juelweed" in the mountains/writing poetry 'when the spirit moves me'/my best buddy "Zayda"/yardscaping/ time with all the wonderful children in my life/weekly volunteer Elementary School Special Needs Children (ages 8-11)/ Enjoy teaching myself "how-to-fix" lots of things online (washer, lawnmower, landscape lighting, etc)
Published a Book? (Name): No…but if/when I ever do, it will be a "Children's Book" and Eleanor will be the illustrator.
Favorite Books/Authors: The Ultimate Athlete/The Wind and the Willows
Favorite Songs/Musicians: Fleetwood Mac/James Taylor/ SarahMclaughlin/U2/Heart/Eagles/Adele/Journey/Black Gospel
Favorite Movies: #1 "School of Rock "(Jack Black)
Best Vacation Ever: Six friends on yacht for two weeks in Bahamas (with boat captain, first mate and chef) who also became great friends!
Favorite Memory of High School: Band /LHS basketball/great classmates/receiving Block L jacket/also, no cell phones/no "selfies"/no facebook/no "bullies"
Proudest Moments of My Life: Coaching the Lancaster Swim Team/Being chosen by the legendary basketball Coach Annie Claire Tribble to coach at Anderson University when she took over at Clemson/Induction Anderson University Athletic Hall of Fame/Coaching the U.S. National Basketball Team (Gold Medal) defeating the Korean National Team Championship Game, Taipei, Taiwan
Things I Would Like My Classmates to Know: My "First" Reunion…I hope no one took it personally! There is not anyone in our class I didn't like, and everyone made me feel liked…I am just sort of an introvert. I very recently shared this with my friend, Nancy Evatt…and, Nancy said, "Introvert my a--!" The bottom line is…I am really looking forward to our 50th reunion!