Jack William Hunter, Jr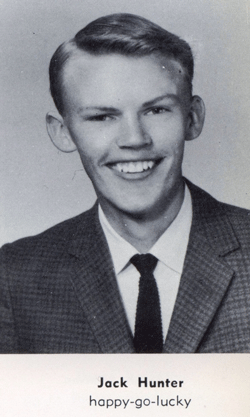 45th REUNION LANCASTER SENIOR HIGH SCHOOL CLASS OF '64
Name/Email Address: Jack W. Hunter/ jwhunter at comcast dot net
Marital Status/Spouse's Name: Married 37 years (Shirley), my best buddy
Children/Grandchildren: 3 Kids, boy/girl twins 32 Brandi & Scott, Jack Wayne 34, Granddaughter 3, Evelyn
Occupation: Electrical Contractor 40 years
College/Professional Training: Multiple Tech Schools, courses, etc
Military Service(Details, Combat Tour?): Drafted…. Joined SC National Guard 6 years
Own Business? (Name, Website): CEO, Hunter Brothers Electrical Corporation, Charleston, SC. Licensed 3 states, Performing Schools, Prisons, Hospital/Medical facilities. Buildings… Electrical Construction. No residential or commercial construction
Hobbies/Interests: Captain men's tennis team long time, President Street Rods Unlimited, Charleston Car Club 19 years, many years Private Pilot with Instrument Rating; fly mainly business. Avid car collector, classics, street rods, early big block performance cars from our time!!!
Published a Book? (Name): N/A
Favorite Books/Authors: N/A
Favorite Songs/Musicians: Stones, all the old guys still out there
Favorite Movies: don't go to the movies, like Clubbing… Like my own home late with HBO and such
Best Vacation Ever: Key West New Years Eve cruise with grown kids and family
Favorite Memory of High School: My best buddies…our cars..our girls…!!!!!!
Proudest Moments of My Life: My wife, Shirley………kids count too……!!!!!
Things I Would Like My Classmates to Know: I am happy, I am healthy, and look forward to living more and more. Life is great……!!!!! I CANNOT MAKE THE REUNION…. I waited this late date…. Thinking I may work it out…. I have a same-weekend unavoidable conflict…. it is regrettable