Justina Lasley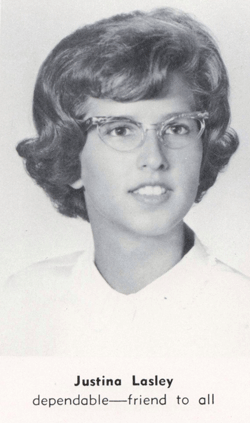 50th REUNION LANCASTER SENIOR HIGH SCHOOL CLASS OF '64
Name/Email Address: Justina Lasley Minifie
Marital Status/Spouse's Name: Married Chad Minifie
Children/Grandchildren: Lasley and Andrew Steever, Rives Poe, Abigail Poe. Lasley and Andrew expecting end of April. Chad and I have four other grandchildren.
Occupation: Founder and Director of Institute for Dream Studies, Author (Newest book Wake Up! will be published by this summer--hopefully)
College/Professional Training: Converse College, BA , University of West Georgia, MS
Military Service(Details, Combat Tour?):
Own Business? (Name, Website): Institute for Dream Studies and DreamSynergy www.DreamSynergy.org
Hobbies/Interests: Dreams!!! Familty and the beach!
Published a Book? (Name): Honoring the Dream: A Handbook for Dream Group Leaders, In My Dream. . . a creative dream journal, and soon to be released Wake Up! : Use your (Nighttime) Dreams to Make your (Daytime) Dreams Come True
Favorite Books/Authors: Oh, my ... So many! Love Sue Monk Kidd's books and am fortunate to know her.
Favorite Songs/Musicians: Of course, any 60's music.
Favorite Movies: Chad and I love going to the movies. So many good ones right now and can't find enough time to view them all. My least favorite movies are ones with violence with no meaning
Best Vacation Ever: Voyage on the Queen Mary to England last summer. I loved being at sea for a full week. Could have stayed forever. I think we should all reserve rooms on the Queen Mary for our "old age," Less expensive than a retirement home with all the care needed, great perks and interesting people.
Favorite Memory of High School: My friends and some very special teachers. Dreamed about Mr. Hutchinson recently. He was a good principal, I think.
Proudest Moments of My Life: Having 3 beautiful and responsible daughters who make the world a better place. Being willing and able to go through tough times successfully.
Things I Would Like My Classmates to Know: I really appreciate each of you and all you have added to my life in the past, present, and will add in the future. Many of you often appear in my dreams so I get to visit with you-- in addition to our reunions.We are always having a great time! We have a great class and I am forever grateful for the friendships. I will be at the reunion unless my grandbaby chooses that date to enter the world.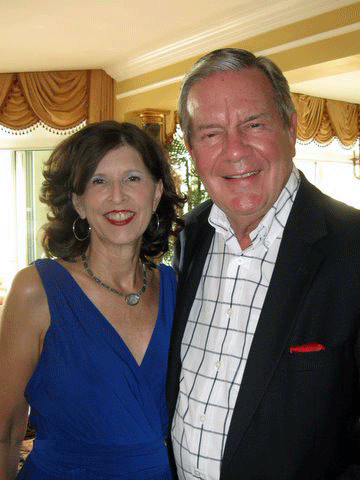 Justina and Chad Minifie