Elizabeth Jean Grier Steele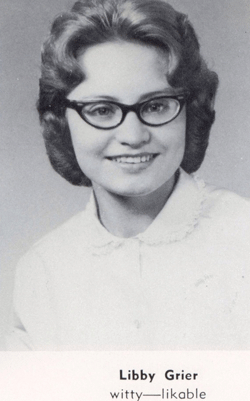 45th REUNION LANCASTER SENIOR HIGH SCHOOL CLASS OF '64
Name/Email Address: Libby Grier Steele / jsteele47 at yahoo dot com
Marital Status/Spouse's Name: Married/Johnny R. Steele
Children/Grandchildren: 2/4/2.5 Great Grands
Occupation: Financial Accounting Administrator
Military Service(Details, Combat Tour?): Four Year Air Force Wife
Own Business? (Name, Website): None
Published a Book? (Name): Not Yet!
Favorite Books/Authors: Bible and Rick Warren
Favorite Songs/Musicians: Gospel and Contemporary
Favorite Movies: Cold Mountain and The Notebook
Best Vacation Ever: Visit to Amish Country
Favorite Memory of High School: The great lessons learned from the wonderful teachers of our days in learning and the valuable lessons learned from my friends and fellow classmates. All the experiences of student life that served to weave me into who I now am and will be in years to come.
Proudest Moments of My Life: When I married Johnny, my children, grand children and great grands were born
Things I Would Like My Classmates to Know: I am happy and so blessed. My life has been a wonderful journey filled with such a variety of experiences. Some have been wonderful while others were sad. I have been blessed with still having both my mother and father with me and in reasonably good health in spite of their 84 and 95 years of age. Johnny and I have two wonderful girls one of which lives close by and the other almost a thousand miles away. We have four fantastic grand kids and two great grand kids with one on the way. Attempting to live life as God would have us has certainly added personality to our lives and we are proud of our personal accomplishments. Having each of you classmates nearby either in miles or in memory is an added blessing we would never desire to give up. To sum it up I want you to know I am HAPPY!