Linda Gail Blackmon Bell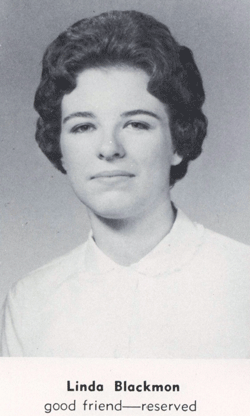 45th REUNION LANCASTER SENIOR HIGH SCHOOL CLASS OF '64
Name/Email Address: Linda Blackmon Bell / lbbr at comporium dot net
Marital Status/Spouse's Name: I am a widow. I was married for almost thirty-one years to Bobby Bell who owned a photography studio in Lancaster.
Children/Grandchildren: I have one son, Travis and one grandson, Hunter.
Occupation: I am retired after teaching school for thirty years!
College/Professional Training: I graduated from the University of South Carolina with a BA degree and I received my MAT degree from Winthrop University.
Hobbies/Interests: I am a Red Hatter. For those of you who do not know, it is a club for women over fifty who want to have fun and we do! Speaking of fun, I really enjoy photographing my grandson. One other interest I have is singing tenor in a contemporary gospel group.
Favorite Books/Authors: I enjoy reading anything by Max Lucado, Henry Blackaby, Stormie Omartian and Beth Moore.
Favorite Songs/Musicians: I like listening to contemporary gospel music. "Love Is Like a River" by the The Gaither Vocal Band is one of my favorites.
Favorite Movies: I do not play golf, but one of my favorite movies is The Greatest Game Ever Played!
Best Vacation Ever: My best vacation was a mission trip to Fortaleza, Brazil to teach Vacation Bible School to the children of Southern Baptist missionaries..
Favorite Memory of High School: One of my favorite memories of high School was of Miss Hannah Duncan who taught Latin. She had such a presence about her. She demanded respect and she got it! Some of those big ole' strong boys gave other teachers grief, but not to Miss Duncan.
Proudest Moments of My Life: One of my proudest moments was when my son became an Eagle Scout.
Things I Would Like My Classmates to Know: I have had a wonderful life! God allowed me to be born into a fantastic family. He gave me a great husband, son, daughter-in-law and grandson. I was able to teach first and second graders for thirty years, but even better than that, I have been blessed to teach God's word in places I never dreamed of! I have love, joy and peace that can only come from God through the Lord Jesus Christ!