Linda Ann Deason Morgan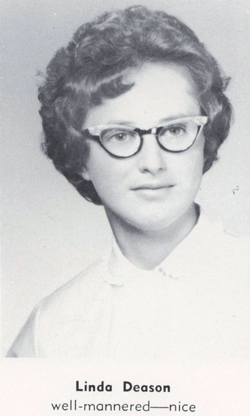 45th REUNION LANCASTER SENIOR HIGH SCHOOL CLASS OF '64
Name/Email Address: Linda Deason Morgan/lindamorgan at comporium dot net
Marital Status/Spouse's Name: Larry
Children/Grandchildren: Two daughters, three grandchildren
Occupation: Pharmacy Technician
College/Professional Training:
Military Service(Details, Combat Tour?):
Own Business? (Name, Website):
Hobbies/Interests: Little bit of everything
Published a Book? (Name):
Favorite Books/Authors: The Bible
Favorite Songs/Musicians: All from the 60s
Favorite Movies: It's A Wonderful LIfe
Best Vacation Ever: Cruise to Cozumel with the entire family
Favorite Memory of High School: Graduation and ring ceremony
Proudest Moments of My Life: Birth of my daughters and grandchildren
Things I Would Like My Classmates to Know: I would love to hear from all of you!