Loana Mary Hunter Reynolds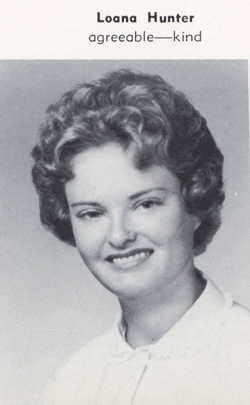 50th REUNION LANCASTER SENIOR HIGH SCHOOL CLASS OF '64
Name/Email Address: Loana Hunter Reynolds/ l dot reynolds166 at yahoo dot com
Marital Status/Spouse's Name: Married/ Carl Reynolds
Children/Grandchildren: Daughter Veronica lives in Camden, SC; Son Jacques lives in Hannibal, MO and has 4 children
Occupation: Housewife
College/Professional Training:
Military Service(Details, Combat Tour?):
Own Business? (Name, Website):
Hobbies/Interests: Love to travel, love to exercise for fitness/ Mission trips, and work in my church
Published a Book? (Name):
Favorite Books/Authors: Left Behind series, Gone With the Win,Chronicles of Narnia
Favorite Songs/Musicians: The Golden Oldies of our day and Christian
Favorite Movies: Wizard of Oz, Sound of Music, West Side Story, Chronicles of Narnia
Best Vacation Ever: Went to Costa Rica with a friend; it was awesome!
Favorite Memory of High School: Our football team—best ever!!
Proudest Moments of My Life: Seeing my daughter and son succeed in their vocations. She runs 6 dry cleaners, and he is an architect.
Things I Would Like My Classmates to Know: I truly love life and my Lord. My family is very important to me and I am so proud to have 7 beautiful grandkids.