Lucy Irene Hamilton Lewis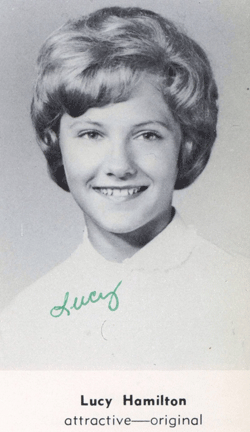 50th REUNION LANCASTER SENIOR HIGH SCHOOL CLASS OF '64
Name/Email Address: Lucy Hamilton Lewis / lucylewis at yahoo dot com
Marital Status/Spouse's Name: Married 45 years to Charles Herrick (Eric) Lewis
Children/Grandchildren: Children: Susan Randolph Lewis, Robin Hamilton Lewis Baker (son-in-law  Brian Carrere Baker), Catherine Herrick Lewis Cannon (son-in-law  Alexander Wells Cannon)    ***   Grandchildren: Hamilton Reiss Baker (4) and Henry Herrick Cannon (6 mos.)
Occupation: Consultant. I work with clients to help them preserve their personal histories, family stories and memorable photographs. I have also co-authored a book entitled, "Create Your Own Family Originals."
College/Professional Training: B.A. English, Agnes Scott College 1968 Some graduate work at Georgia State University.
Military Service(Details, Combat Tour?):
Own Business? (Name, Website):
Hobbies/Interests: Gardening, reading, bridge, Mah Jongg, entertaining, crafts, family photography. Main interests revolve around family and friends. Love to travel, but have mainly been limited lately to traveling to visit children since two of our daughters live in NYC and the other lives in DC.
Published a Book? (Name): "Create Your Own Family Originals" by Lucie Eggleston and Lucy Lewis. In addition, I have created heritage books for both the Lewis/Herrick and the Hamilton/Hinson sides of my family.
Favorite Books/Authors: Eats, Shoots & Leaves by Truss; 1421 by Menzies; Team of Rivals by Doris Kearns Goodwin; The Looming Tower by Wright; 109 East Palace by Conant;  Steve Jobs by Walter Isaacson; Catherine the Great by Robert Massie;  Boomerang by Michael Lewis; Devil in the White City by Erik Larson; Empire of the Summer Moon by S.C. Gwynne; The Lady in Gold by Adele Bloch-Bauer; Provenance:  How a Con Man and a Forger Rewrote the History of Modern Art by Laney Salisbury and Aly Sujo; The Black Banners by Ali Soufan; Pilgrim's Wilderness by Tom Kizzia; 1421 by Gavin Menzies
Favorite Songs/Musicians: Anything from The Beetles to Beethoven to Beach Music to Bach. I continue to enjoy the oldies; seems to me that the music from our past is definitely better than today's pop culture!
Favorite Movies: Gone with the Wind, Out of Africa, The Princess Bride, Evita, Immortal Beloved, The Phantom of the Opera, Inside Man, Fried Green Tomatoes, The Shawshank Redemption, Grease, West Side Story, The Thomas Crown Affair, The Sound of Music
Best Vacation Ever: Have enjoyed great trips/vacations, but always LOVE any vacation when all our family gathers.
Favorite Memory of High School: The freedom we all had as young people during that era. The world was much less complicated and intense. We watched out for each other and took care of our own.  We had a good time!
Proudest Moments of My Life: Besides the birth of each child and grandchild, receiving the first copy off the press of the book I wrote with a college classmate.
Things I Would Like My Classmates to Know: I loved growing up in Lancaster and I still have millions of fond memories of my school years and my classmates. I love my family and my life in Texas, but I truly miss being able to connect on the east coast with old friends, classmates, and family on a regular basis.  Yea for reunions!  I love seeing PICTURES of classmates and their families!  Hope everyone will post a plethora of pictures to see!!!!