Marilynn Elizabeth Taylor Comar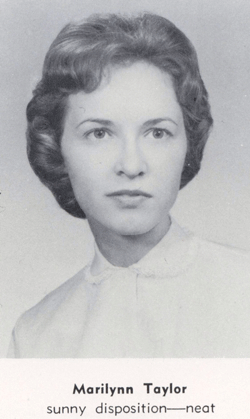 45th REUNION LANCASTER SENIOR HIGH SCHOOL CLASS OF '64
Name/Email Address: Marilynn Taylor Comar/mcnewberry at att dot net
Marital Status/Spouse's Name: Married/Ray
Children/Grandchildren: Ray Jr./ spouse Joni (two children – Braden (7) Raina (3); Shannon /spouse David (no children)
Occupation: Consultant to healthcare facilities
College/Professional Training: MUSC,Charleston; Florence-Darlington TEC, Florence; Coker College, Hartsville; USC, Aiken
Military Service(Details, Combat Tour?): Sent a husband to Vietnam
Own Business? (Name, Website): Have my own consulting business, accept referrals only. No website
Hobbies/Interests: Tennis (watching only these days); USC football (heaven knows why); researching alternative medicine
Published a Book? (Name): Have one dedicated to me
Favorite Books/Authors: The Giving Tree (favorite); Clyde Edgerton; Pat Conroy; Florence King; Southern Women's writers
Favorite Songs/Musicians: Morning Has Broken (favorite); anything Folk; Mary Chapin Carpenter; Melissa Etheredge; John Legend; Josh Groban.
Favorite Movies: Anything with Richard Gere (especially if he gets naked)
Best Vacation Ever: Hawaii
Favorite Memory of High School: Graduation
Proudest Moments of My Life: (1) When my children were born healthy and again when they became happy, successful adults. (2) Managing to stay married for 41 years to the same man and staying as excited to see him as I was 41 years ago.
Things I Would Like My Classmates to Know:
I have been blessed with a truly wonderful life.
I am so saddened by the loss of so many classmates.
My husband and I volunteer with Project Pet to rescue mistreated dogs. We currently have six that we have adopted (they behave better than most children and they never leave you to get married and start families of their own.
I'm very excited about seeing everyone again.