Mary Lou Smith Miller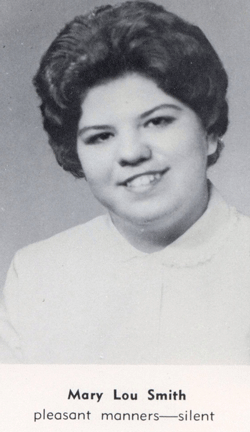 45th REUNION LANCASTER SENIOR HIGH SCHOOL CLASS OF '64
Name/Email Address: MaryLou Smith Miller / cwmiller at comporium dot net
Marital Status/Spouse's Name: Married to Wayne Miller
Children/Grandchildren: One son, Jeremy. One granddaughter, Ashley.
Occupation: Retired Graphics Designer
College/Professional Training: Associates Degree in Business
Military Service(Details, Combat Tour?):
Own Business? (Name, Website):
Hobbies/Interests: Interested in graphics design software. I crochet for relaxation.
Published a Book? (Name):
Favorite Books/Authors: Favorite authors are Frank Yearby and Pat Conroy. Favorite book is "Beach Music".
Favorite Songs/Musicians: Chicago, Air Supply, Eagles, Crosby, Stills and Nash, and Mario Lanza
Favorite Movies: I don't have a favorite movie.
Best Vacation Ever: Toss-up between Las Vegas and tour of the Northeast.
Favorite Memory of High School: I don't have one.
Proudest Moments of My Life: When my son was born and when I graduated with honors from College.
Things I Would Like My Classmates to Know: I am an 8-year survivor of Lymphoma.
The caption under my Senior picture in the year book said I was quiet. This is further from the way I really am.
.