Mary Jane Stroud Hammond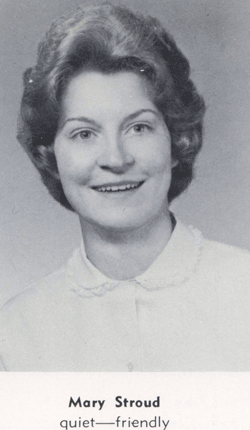 45th REUNION LANCASTER SENIOR HIGH SCHOOL CLASS OF '64
Name/Email Address: Mary Stroud Hammond
Marital Status/Spouse's Name: I am a widow. I was married for almost 25 years to a wonderful man, Edward Hammond.
Children/Grandchildren: No children
Occupation: Retired from the Lancaster County School District Accounting Department
College/Professional Training: USC-L with an Associates in Science Degree in Commercial Education
Military Service(Details, Combat Tour?):
Own Business? (Name, Website):
Hobbies/Interests: Reading, watching football games, and watching and attending baseball games. Enjoy browsing antique shops, attending gospel music concerts and plays, spending time with family and friends.
Published a Book? (Name):
Favorite Books/Authors: Books written by North and South Carolina authors. Favorites are The Bible and books by Christian authors that inspire and deepen my faith. / Karen Kingsbury, Grace Livingston Hill and Jan Karon.
Favorite Songs/Musicians: Midnight Cry by Evan Parker / Country and gospel
Favorite Movies: Gone With the Wind, The Ten Commandments
Best Vacation Ever: Any vacation spent with my husband
Favorite Memory of High School: Graduation Day.Enjoyed 4 years with wonderful teachers and friends
Proudest Moments of My Life: First job, car, home; college graduation, being able to retire comfortably
Things I Would Like My Classmates to Know: God blessed me with a wonderful husband , and I have a great family and friends. I was able to work in a job that I loved, and I live in a country where we have freedoms that citizens of other countries do not have. The best feeling in the world is waking up each morning. I was in a terrible auto accident in 2004, and only by the grace of God am I still here.