Monty Gary Beaver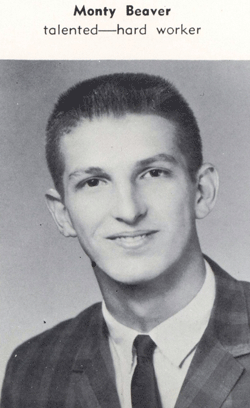 50th REUNION LANCASTER SENIOR HIGH SCHOOL CLASS OF '64
Name/Email Address: Monty Beaver/ mgbeaver at comporium dot net
Marital Status/Spouse's Name: Married to Carol Martin Beaver
Children/Grandchildren: Jenny B. Greenway and Julie B. Paden / Jacob and Sean Greenway / Kaylie, Jasmine, Connor Paden, Katelyn Paden, Jonathan Paden
Occupation: Retired from Lancaster High Career Center (LHS) in 2010
College/Professional Training: Some college courses at USCL and Clemson.
Military Service(Details, Combat Tour?): 1966-1969, Vietnam and Germany.
Own Business? (Name, Website): N/A
Hobbies/Interests: Old cars, woodworking, missions/attend Second Baptist Church, Lancaster
Published a Book? (Name): N/A.
Favorite Books/Authors: The Bible, general old car facts
Favorite Songs/Musicians: Southern Gospel/ The Cathedral Quartet
Favorite Movies: Most of Clint Eastwood movies
Best Vacation Ever: Charleston, SC / mountains of NC and GA.
Favorite Memory of High School: Finally getting out!
Proudest Moments of My Life: Marrying Carol, birth of the girls and grandchildren and having the opportunity to be involved with several building projects.
Things I Would Like My Classmates to Know: One highlight of our senior year was that Carol and I met the summer of 1963. And we are still together, married, best of friends and in LOVE. I don't like change!