Nancy Jeanne Williams Stokes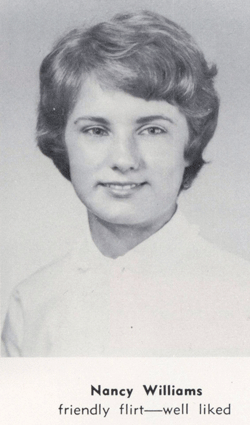 45th REUNION LANCASTER SENIOR HIGH SCHOOL CLASS OF '64
Name/Email Address: Nancy Williams Stokes/ nstokesgt at aol dot com
Marital Status/Spouse's Name: Married for 41 years to Tom Stokes
Children/Grandchildren: Son and daughter/ Two grandsons, and two granddaughters
Occupation: Worked for several years as accountant for the Library, Information Services and Instructional Services at the University of South Carolina
College/Professional Training: BS, Winthrop College
Military Service(Details, Combat Tour?):
Own Business? (Name, Website):
Hobbies/Interests: Arts and crafts, photography, fishing and boating, bridge, gardening, water aerobics, AM Coffee Club, scrapbooking
Published a Book? (Name): No publications, but I have enough photo albums and scrapbooks to fill a library! My family's life is well documented.
Favorite Books/Authors: Some of my favorite authors are Jim Patterson, Nicholas Sparks, John Grisham
Favorite Songs/Musicians: Beach Music
Favorite Movies: One of my favorites is "Second Hand Lions" starring Robert Duvall and Michael Caine
Best Vacation Ever: Istanbul. We were wined and entertained with an all-expenses-paid- first-class-vacation paid by The Chairman's Club of Tom's company.
Favorite Memory of High School: Memory. What's that?! Can't remember what I did yesterday, but I do remember the grand ole halls of our alma mater and happy times with good friends. My least favorite memory: Sitting in typing class when it was announced that President Kennedy had been shot.
Proudest Moments of My Life: My proudest moment is when my son was born and my second is when my daughter was born. They are my pride and joy!
Things I Would Like My Classmates to Know: Well, friends, I think I missed my calling. Whatever it was, I haven't discovered it yet. I have dabbled in this and that and never really found anything I enjoyed enough to make a career of. Guess what? That suits me just fine, because I am happy with the hand that I have been dealt. I have a wonderful family and a wonderful circle of friends. I wish I could stay awake for the late news, but I'm afraid those days are gone.
Dragging on those cigarettes finally caught up with me in 1999. Somehow, despite a dire prognosis, I survived. Chip Witherspoon says I am his miracle patient. All I can say is "God is Good"! I am now enjoying my grandchildren as much or more than children. I have one child in Charleston and one in Anderson, so I keep the road hot from one end of the state to the other.
Nancy and Tom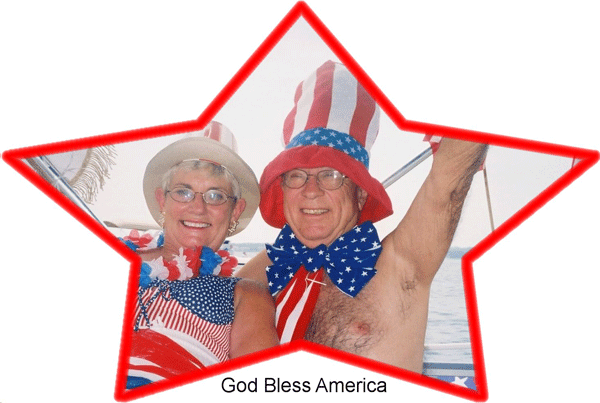 Lake Murray Boat Parade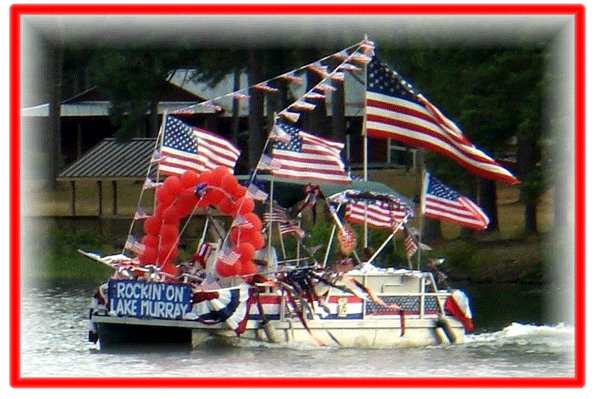 We had so much fun decorating the boat. We actually placed in the competition!
Nancy Williams Stokes Family- 2008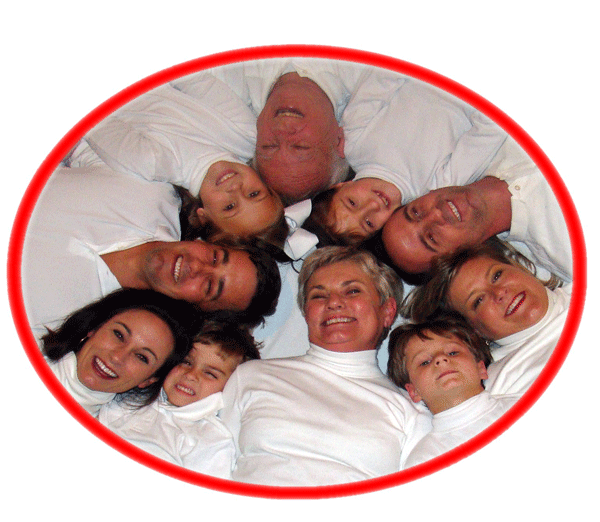 Clockwise: Nancy, Wells, Greer, Jess, Sarah Grace, Tom Jr, Peyton, Tom III, April, Miller