Patricia Ann Johnson Harper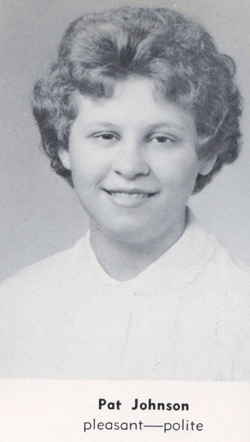 45th REUNION LANCASTER SENIOR HIGH SCHOOL CLASS OF '64
Name/Email Address: Pat Johnson Harper
Marital Status/Spouse's Name: Married/ Mike Harper
Children/Grandchildren: No children
Occupation: Retired
College/Professional Training:
Military Service(Details, Combat Tour?):
Own Business? (Name, Website):
Hobbies/Interests: Reading, also my church functions
Published a Book? (Name):
Favorite Books/Authors: The Bible
Favorite Songs/Musicians: 50s, 60s, 70s
Favorite Movies:
Best Vacation Ever: Niagara Falls, Canada
Favorite Memory of High School: Graduation Day! Senior Class Picnic
Proudest Moments of My Life: July 6, 1975, my wedding day
Things I Would Like My Classmates to Know: I went to work for Springs in 1965. It's a shame that Springs no longer exists! Retired after 38 years. Mike and I have no children, but our nieces and nephews seem like our children. Thanks, Buck and Committee members, for putting the Reunion together. See everyone in April!