Robert Luther Rollings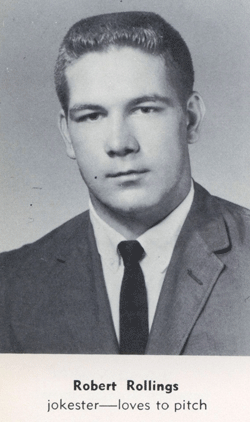 50th REUNION LANCASTER SENIOR HIGH SCHOOL CLASS OF '64  
Name/Email Address: Robert L. Rollings/ sandynz at mindspring dot com
Marital Status/Spouse's Name: Sandy
Children/Grandchildren: one son       four step-daughters      eight step-grandchildren
Occupation: education consultant/supervisor; screen-printing company owner
College/Professional Training: B. A. (History) U.S.C.; M.A.T. (Social Studies) Winthrop; Educational Specialist (Administration) Winthrop.
Military Service(Details, Combat Tour?): U.S. Army Reserves  1970-1976
Own Business? (Name, Website): Carolina Ideas (Screenprinting, speciality products)  carolinaideas@mindspring.com
Hobbies/Interests: attending USC football, basketball, and baseball games; working out; attending minor league baseball games throughout the Southeast
Published a Book? (Name): No, but I was published in  Out of Unknown Hands: Writings by S.C. Teachers/ 1990.  I  also  had a column in the weekly newspaper  The Irmo News.
Favorite Books/Authors: John Grisham, Pat Conroy, selected biographies, and baseball themed books.
Favorite Songs/Musicians: Blues, Beach Music, Bluegrass; Allman Brothers, The Band,  Gordon Lightfoot, The Eagles
Favorite Movies:" Annie Hall", "Bull Durham", "Field of Dreams"
Best Vacation Ever: trip to Brazil, Lambeau Field in Green Bay, Wi., tour of I-40 minor league baseball teams.
Favorite Memory of High School: Carlyle Steele was the first to stand in senior English class for "The Star Spangled Banner" after JFK's  assassination.
Proudest Moments of My Life: birth of my son; coaching in  5 baseball state championship series at Irmo High School
Things I Would Like My Classmates to Know: Irmo defeated Lancaster for the AAAA baseball title in 1985 and lost to Lancaster in 1988.
I have missed only one home USC football game since 1976..
Vanny Mullis is still one of the funniest people I know..