Sheila Hope Lucas Miller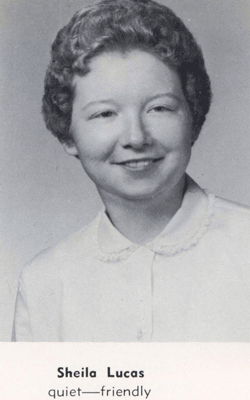 45th REUNION LANCASTER SENIOR HIGH SCHOOL CLASS OF '64
Name/Email Address: Sheila Lucas Miller/ slmiller172 at charter dot net
Marital Status/Spouse's Name: Ken
Children/Grandchildren: 1 son Lenny, daughter in law Kristy, one grandson Brayden
Occupation: RN
College/Professional Training: Spartanburg General School of Nursing
Military Service(Details, Combat Tour?):
Own Business? (Name, Website):
Hobbies/Interests: Football, Cross Stitch
Published a Book? (Name):
Favorite Books/Authors: History of the Outer Banks
Favorite Songs/Musicians: 50's and 60's music
Favorite Movies: Steel Magnolia, Gone With the Wind, Falling in Love , Cars
Best Vacation Ever: San Francisco
Favorite Memory of High School:
Proudest Moments of My Life: Becoming a grandmother and RN
Things I Would Like My Classmates to Know: I have been blessed . I am still working full time at a long term acute care hospital and baby sit with Brayden 3 days a week. I have met many interesting people and have learned much from them. I hope to be blessed with another grandchild next year and retire soon.
Grandson Brayden