Shirley Anne Victory Collins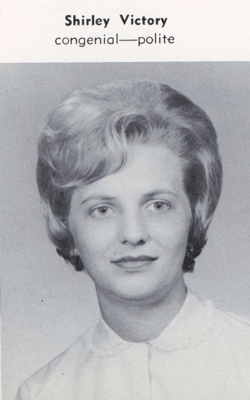 45th REUNION LANCASTER SENIOR HIGH SCHOOL CLASS OF '64
Name/Email Address: Shirley Victory Collins/ sac123 at bellsouth dot net
Marital Status/Spouse's Name: Married/ Richard Collins
Children/Grandchildren: Son:James T. Britton, III and wife Heidi, live in Walterboro, SC; Daughter:Kathy L. Larazabal and husband Frank, children Lucas Britt 7, and Benjamin Robert 3, live in Gastonia, NC; Daughter: Heather N. Ciccone and husband Bruce, children Alyssa Nicole 7, Walker Bruce 3, live in Kittery, Maine; Son: Christopher M. Collins and wife Olga, live in Washington, DC.
Occupation: Nurse, retired 2008
College/Professional Training: Trident Technical College
Military Service(Details, Combat Tour?): Husband retired from Air Force
Own Business? (Name, Website): None
Hobbies/Interests: Sewing, Cooking, Volunteer for Spirit of South Carolina
Published a Book? (Name): No
Favorite Books/Authors: Ice Bound by Dr Jerri Nielsen, books by Pat Conroy
Favorite Songs/Musicians: Celine Dion, Amy Grant, George Strait, Neil Diamond
Favorite Movies: Gone With the Wind, My Fair lady, Sound of Music, movies with good scenery
Best Vacation Ever: Las Vegas, Maine, Branson, MO, Disney; all vacations are great!
Favorite Memory of High School: Junior Play, The Magic Touch
Proudest Moments of My Life: Having children and watching their achievements
Things I Would Like My Classmates to Know: I wish I had known more of my classmates, and not just who they were. I like to entertain and have house guests. I like to travel with friends and family.