Susan Elise Barber Schuhmacher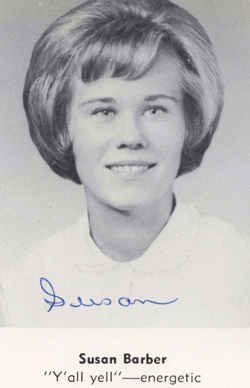 45th REUNION LANCASTER SENIOR HIGH SCHOOL CLASS OF '64
Name/Email Address: Susan Barber Schuhmacher/ artsea27 at msn dot com
Marital Status/Spouse's Name: Single
Children/Grandchildren: Matthew, 32 and Grey, 29. Matt went to ECU in art. Grey graduated in business (hospitality and marketing). Both boys are athletes , skiers, and live in Steamboat Springs, CO where they 're into businesses related to tourism.
Occupation: Professional artist and art teacher
College/Professional Training: BA, Columbia College, some grad work at USC
Own Business? (Name, Website): www.carolinawatercolors.com
Hobbies/Interests: Painting, photography, pottery, crafts, writing, reading, gardening, observing nature, antiques, love going to garage sales and second-hand stores
Published a Book? (Name): I am a published artist—lots of prints, some work made into cross stitch kit, some printed on T-shirts. Though I'm not a published author, I have written and illustrated several children's books
Favorite Books/Authors: All of Pat Conroy's books; All of Chuck Colson's, especially Born Again and The Good Life; Francoise Gilot's My 10 Years With Picasso; Girl With a Pearl Earrring; The Kite Runner; The YA YA Sisterhood
Favorite Songs/Musicians: Bob Dylan, Tina Turner, Pavarotti, Willie Nelson, Dwight Yoakum, Alan Jackson, most of 70s groups. What a cross-section!!
Favorite Movies: Dances With Wolves, A Beautiful Mind
Best Vacation Ever: A 6-week "art" emphasis tour of Europe; and a week in Isle Mujere's (Mexico)
Favorite Memory of High School: I have so many wonderful memories of high school, but some of my favorites revolve around the pep rallies ( one skit where I was Hamlet's Witch… "Double, double toil and trouble"), the football games, and the dances at the Youth Center afterwards
Proudest Moments of My Life: Naturally, the proudest moments include birthing and raising my two sons. Other proud moments include winning top art awards in competitions ( recently Best In Show—Goldsboro National Competition) and my K-1st grade students winning 2nd place at State Fair
Things I Would Like My Classmates to Know: That high school basketball changed my life and and opened the doors to a world of art and teaching art to children and others.I majored in art and education and taught in a black elementary school in 1969; later became the first elementary art teacher in Greenville, SC. I have lived in Atlanta, Ft Lauderdale, Denver (managed Children's Photographer), Rapid City (manager of Fashion Crafts), put my husband through USC La School by teaching art in Gilbert, lived in Pineville, and now Raleigh where I paint and teach art residences in the schools. My brother and I sold the 50-year old Pawley's Island home, and now have a Litchfield By the Sea condo. MOST IMPORTANT: MY LIFE HAS BEEN ENRICHED BY FRIENDS AND CLASSMATES OF LHS '64. I CHERISH THE MEMORIES AND HAPPY DAYS WITH YOU
.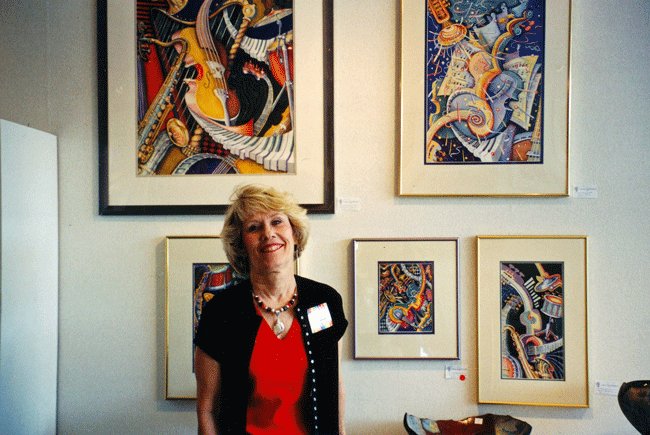 Matt and Grey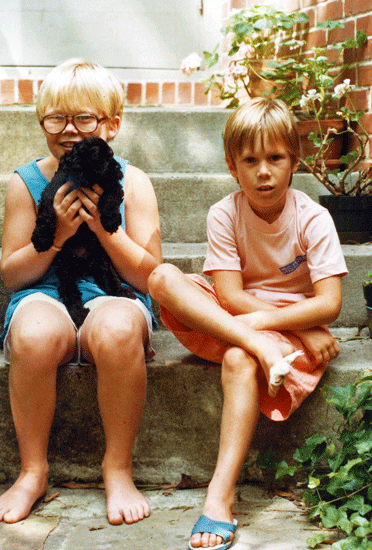 9 1/2 and 7 with Pepper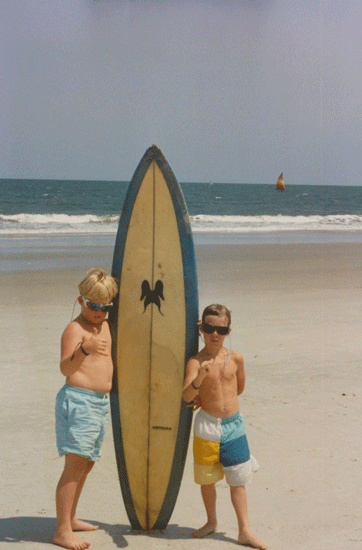 Surfer Dudes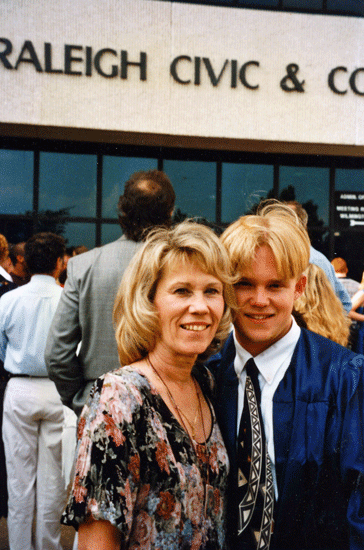 With Matt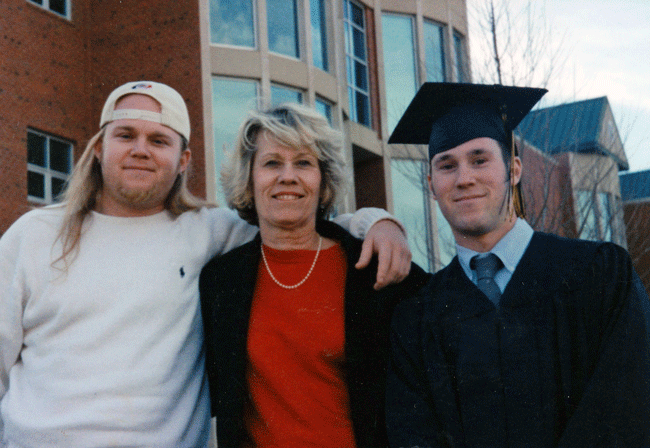 Grey's Graduation from ASU, 2001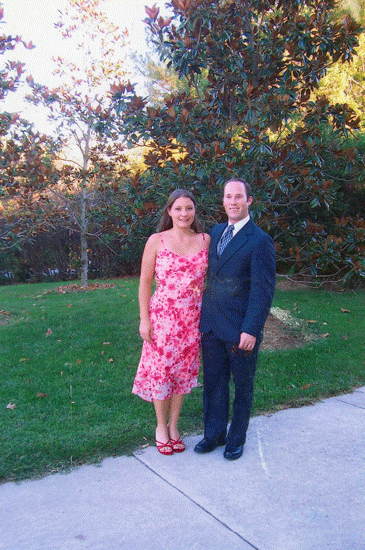 Grey and Fiancee' Kristin
Art Show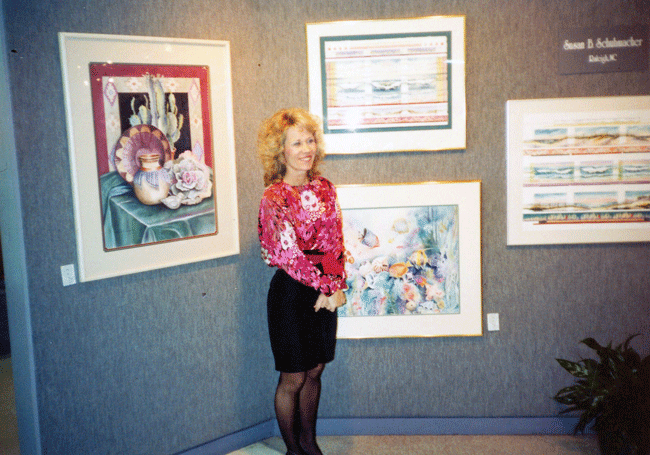 One of My Art Students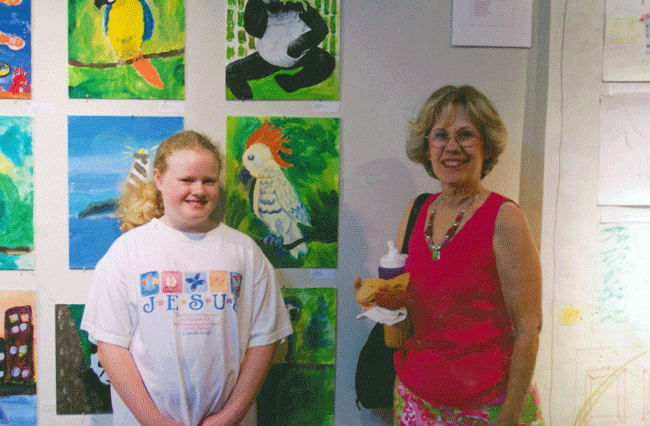 My 60th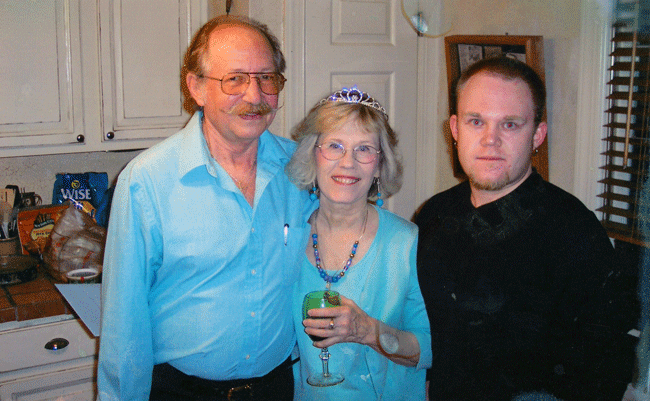 Friend Robert Case and Matthew
Good Friends Forever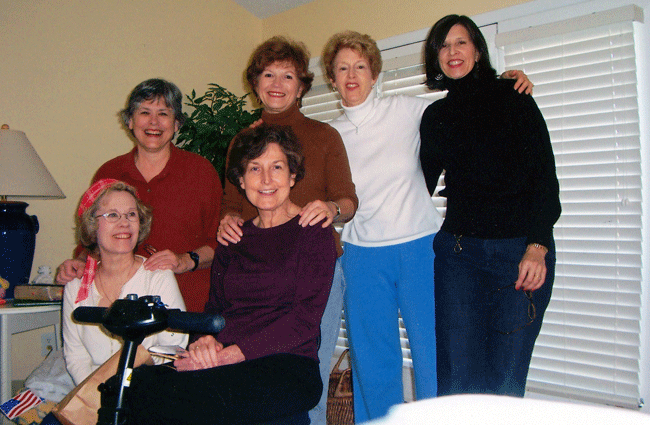 Seated: Mary Heath Harris Etheredge
L-R: Susan Barber Schuhmacher, Susan Dixon Goldsmith, Merry Jordan Taylor, Laney Goldsmith Thompson, Justina Lasley