Teresa Iris Ray Redford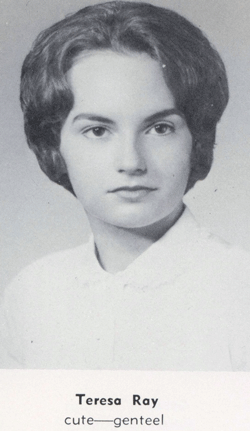 45th REUNION LANCASTER SENIOR HIGH SCHOOL CLASS OF '64
Name/Email Address: Teresa Ray Redford/ trayredford at earthlink dot net
Marital Status/Spouse's Name: Married (16 yrs) Rick Redford
Children/Grandchildren: 2 children, Ronnie Sisson, Jr., Angela Sisson Meadows/ 2 grandchildren, Kayla Sisson (13) Amanda Meadows (10) Extended family- Jeremy Redford, he has twin girls.
Occupation: Part time- bookkeeping, husband's business
College/Professional Training: 2 years college, various technical classes.
Military Service(Details, Combat Tour?): Mother of a Marine, Desert Storm, Kuwait.
Own Business? (Name, Website): Husband, landscaping business
Hobbies/Interests: Photography, crafts, volunteer work at church: graphic design, church newspaper; work with the children, teach 2nd & 3rd grade girls, and a 4 & 5 year class. Enjoying various Women Bible Studies.
Published a Book? (Name): no
Favorite Books/Authors: "The Ultimate Gift", "The Shack"
Favorite Songs/Musicians: Wide variety, Martina McBride, Contemporary Christian.
Favorite Movies: "Pretty Women", "Princess Diary", "Cinderella"
Best Vacation Ever: My best were at Nags Head, together with children & grandchildren.
Favorite Memory of High School: A lot of good memories, riding around on Sunday afternoon. Girls' over-night weekends together, and our girls "beach trip". Worse memory was getting caught cutting school, one of my weak moments, my senior year.
Proudest Moments of My Life: Proudest & Happiest- Looking in the little faces of my children & grandchildren at birth. When my son came home from "Desert Storm"
Things I Would Like My Classmates to Know: Certainly a lot I would like to share but as I think my first thought is --"It's a Wonderful Life". Remembering back to school days, many close friends, & good times that I still cherish, thinking I knew a lot then. The years beyond were years of growing and really learning what life is all about, the important stuff. Found I really didn't know anything. Every day is a good day so far! I know many can't say that. I think often of my friend, Carole Ray, sorry she missed all of this. She died so young. God has blessed my life, for that I am just so grateful.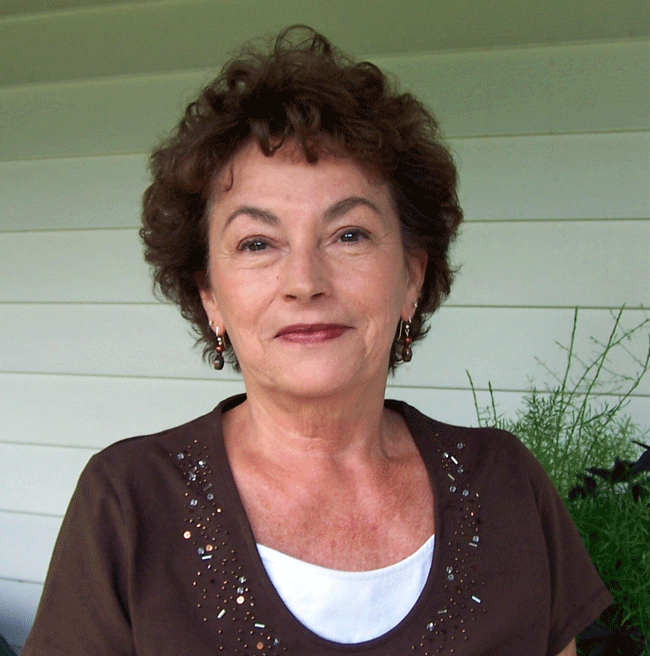 Our Family Christmas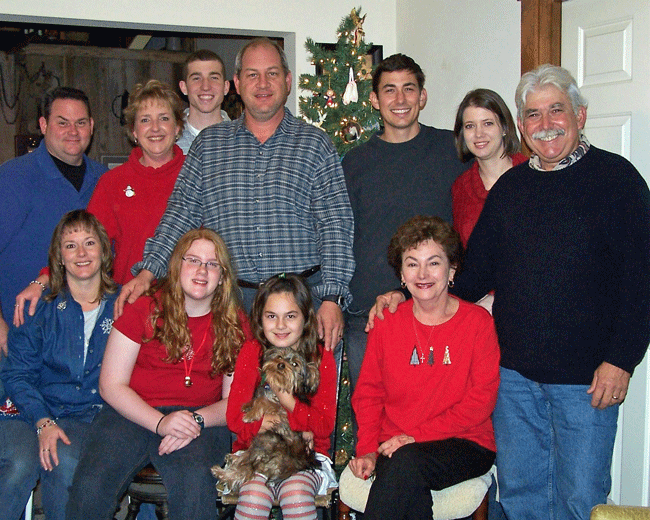 Me and My Girls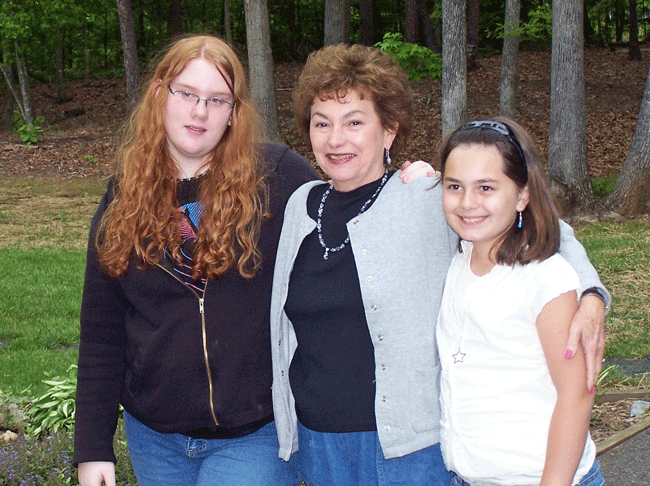 Kayla, Teresa, Amanda
Teresa, Rick and Twins