Vann Stephen Mullis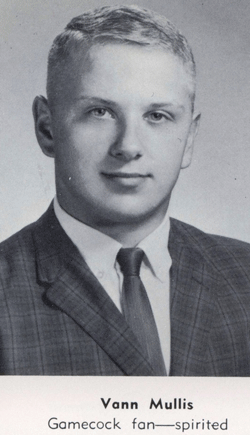 45th REUNION LANCASTER SENIOR HIGH SCHOOL CLASS OF '64
Name/Email Address: Vann S. Mullis/ vannmullis at bellsouth dot net
Marital Status/Spouse's Name: Married 39 years/ Susan
Children/Grandchildren: Lisa Mullis Williams ( Dentist, Greenville, SC); V. Stephen Mullis. Jr (Network Security Engineer, Columbia, SC)/ One grandson, Harrington Vann Williams (Hank)
Occupation: Sales Representative
College/Professional Training: BS in Marketing, USC, Minor in Trickonometry and Fraternity
Military Service(Details, Combat Tour?): None. Thanks to all who served.
Own Business? (Name, Website): Mullis Properties
Hobbies/Interests: Spending time with family at Lake Wateree/ Tailgating with family at USC football games with Bill and Suezi Long and their sons
Published a Book? (Name): Sequel to Animal House ( Cannot be published until after my death as many of my classmates have parts in it)
Favorite Books/Authors: Rush Limbaugh and Bill O'Reilly
Favorite Songs/Musicians: Under the Boardwalk/Beach Music/Maurice Williams and the Zodiacs
Favorite Movies: The Sting/ The Godfather/ Brother Where Art Thou
Best Vacation Ever: San Francisco
Favorite Memory of High School: Playing football for Wade Corn
Proudest Moments of My Life: Seeing our daughter graduate from dental school at MUSC and our son from USC School of Engineering
Things I Would Like My Classmates to Know: I don't know anyone who graduated from high school anywhere who had better time than I did, thanks to all of you.
I can't believe that Rick Renner and Donald Graves had the gall to say anything about my appearance.
Love to all,
Vanny