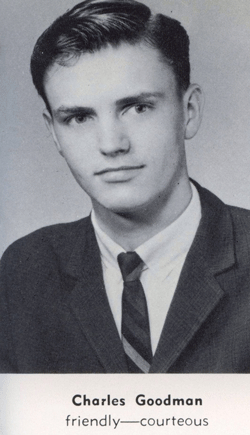 45th REUNION LANCASTER SENIOR HIGH SCHOOL CLASS OF '64
Name/Email Address: Charles E. Goodman, Sr. Home e-mail cgoodman430 at hotmail dot com
Work: Gmancc at bellsouth dot net
Marital Status/Spouse's Name: Married to Minnie Key Goodman for 33 years
Previous administration : DiAnn Powell for 10 years
Children/Grandchildren: 1. Sandra D. Green , Grandchildren: Ashley, Kayce: Great Grandchild: Jason
2. James E. Goodman,II, Grandchildren: Alexis, Sterling, Chandler
3. Kevin L. Liles, step-son: single
4. Charles E. Goodman, Jr., Wife : Jennifer: no children yet
Occupation: Auto/RV Dealer
College/Professional Training: Augusta College-2yrs
Military Service(Details, Combat Tour?): No Military Service
Own Business? (Name, Website): Goodman Chevrolet-Coachmen, Inc. In process of Retiring.(Not necessarily by choice)
Hobbies/Interests: Golf, Fishing , camping, poetry, keeping up 8 acres.
Published a Book? (Name): not yet
Favorite Books/Authors : Works of Longfellow and any inspirational material.
Favorite Songs/Musicians: All of the "Four Seasons"songs and The"Eagles"also my favorite Gospel Group just happens to be my niece: Susan Whisnant of The Whisnants from Morganton, N.C. (check them out on-line at www.whisnants.com).
Favorite Movies: Old: "It's a Wonderful Life" and all the older "Bond" movies. Newer: " The Green Mile"
Best Vacation Ever: We have been fortunate over the years to have been able to see a lot of the world: Hawaii, Germany, Austria, Hong Kong and others, but the best was when we "earned " a cruise through the business on the "Windstar" , a smaller ship with just 22 cabins. We had a specific itinerary, However, the Captain was asked, " If you could go anywhere you want , where would you go? As he commenced to tell us, The owner of the Corporation halted him and said "That's where we're going! So, with no specific itinerary we traveled and visited just about every island in the west Indies. It was great ! ( French St. Maartin was great, really enjoyed the view on the Beaches-Guess Why!)
Favorite Memory of High School: I would like to say Playing sports, however I never played- I would like to say being on the Honor Role, But I never was, I'd like to say taking advantage of some of the other school programs but I opted for work because I just liked the jingle in my pocket and having my own set of wheels .
Proudest Moments of My Life: Too many to list: like being one of the youngest Chevrolet dealers in the country back in the early 70's, being married to two of the finest, most beautiful women in the world ( Not at the same time of course !) , having the greatest children and grandchildren and now , being a Great Grandfather. I am also very proud to have been raised by Christian parents and having siblings that have always loved and supported each other. I am proud to serve the Lord through the ministry of the Gideons. I am very proud to have been born and raised in Lancaster and having attended Lancaster High. I feel a since of pride even now when I tell someone where I came from and where I went to High School.
Things I Would Like My Classmates to Know:
Whatever things are true, whatever things are honest, whatever things are just, whatever things are pure, whatever things are lovely, whatever things are good, whatever is of good report: if there be any virtue, if there be any praise..THINK ON THESE THINGS. Philipians 4:8
Life is real! Life is Earnest!
And the Grave is not its goal;
Dust thou art, to dust returnest,
Was not spoken of the Soul. Henry Wadsworth Longfellow
Life is Short : Don't pass up an opportunity to tell someone that you love them. CEG